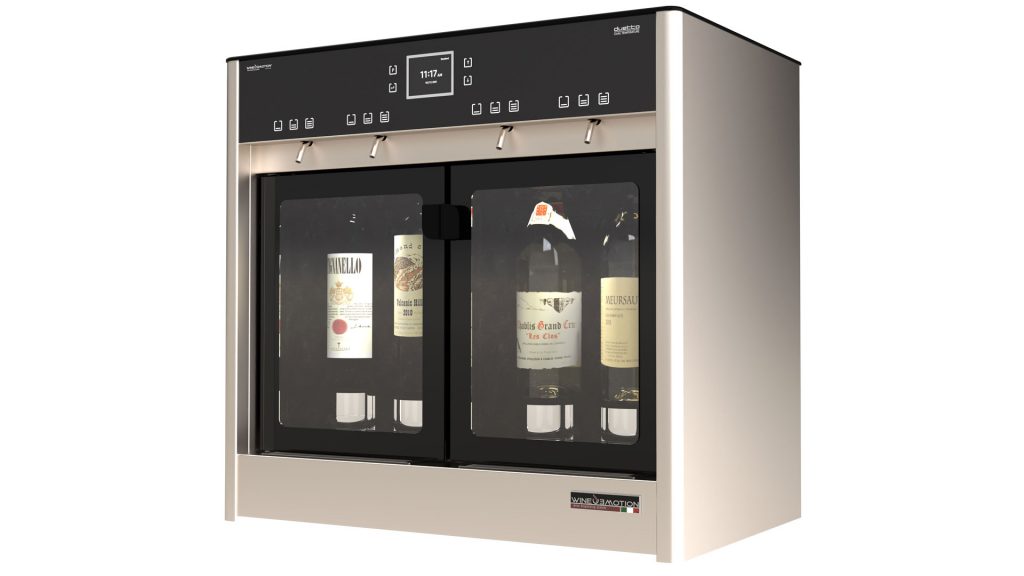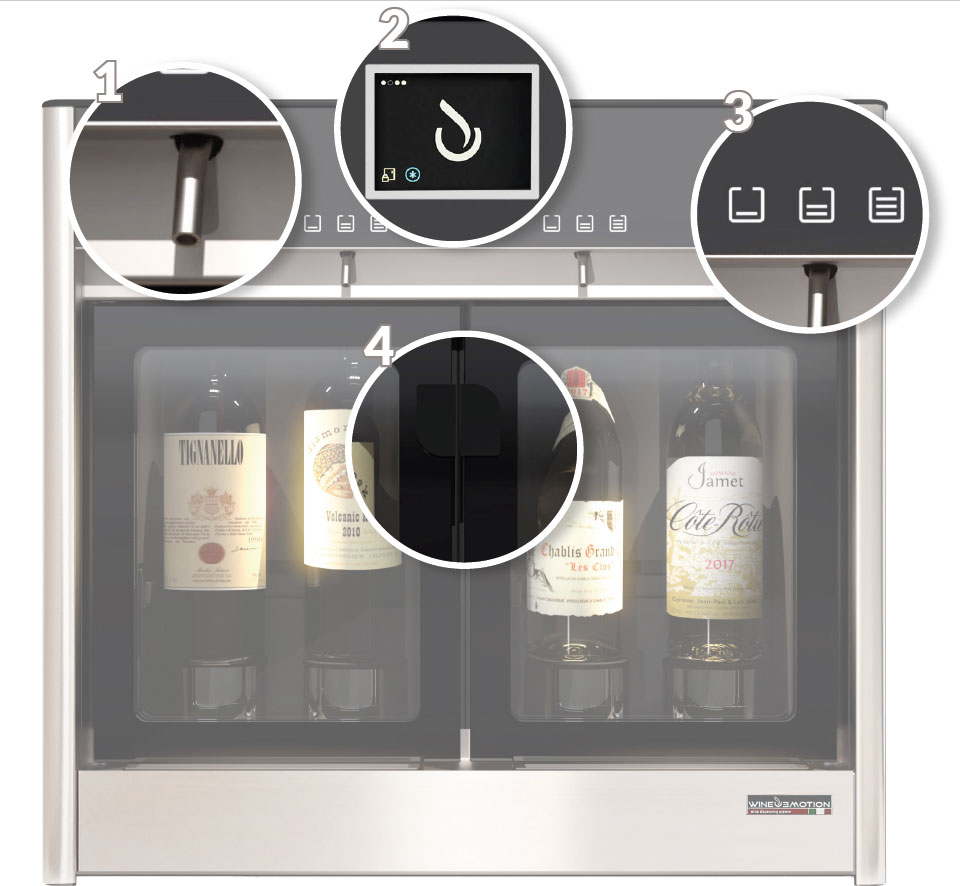 New Wine Tap Technology.
Wineemotion's goal has always been to find the best solution to preserve and pour wine without altering the taste. The latest version of our Wine Tap will serve this pourpose even better, with a new motorized pump that cleans all the residues from the nozzle. Thiswill improve wine preservation and dispenser reliabilty.
Easy Interface!
The dispensers in the "Easy" line all feature a new simplified and easy to learn interface. Commands are simple and intuitive with all the main information at a glance.
Capacitive Touch Panel.
All the Duetto Dispensers are equipped with new capacitive touch buttons on a glas
panel, Elegance and easy of use at your fingertips!
Dual Temperature
The Duetto features two separate areas with independent compressors and cooling system so that ensure a completely separated management of the temperatures.
Silent, reliable and powerful, the new cooling system will keep your wines at the right
temperature.
---
Features
SERVICE TEMPERATURES
Fully independent zones ranging from 6°C (42°F) to 22°C (72°F)
POURS
Up to three different dosages through capacitive touch buttons
BOTTLES LIFTING SYSTEM
Lifting system with gas spring pistons
FRIDGE
Modern no-frost, noiseless professional cooling system.
GAS
Nitrogen or food grade Argon (cylinder or generator not included)
CUSTOMIZATIONS
Machine color can be customized
LOCKING SYSTEM
Electronic lock for the door with security code.
ANTI CONDENSATION GLASS
Glass doors are treated with a special coating that prevents condensation
---
Dimensions and Weight
| | |
| --- | --- |
| Width | 615mm | 24 3/16″ |
| Height | 568mm | 22 1/2″ |
| Depth | 374mm | 4 11/16″ |
| Weight | 45kg | 99lbs |
Temperature combinations

Two totally separated temperature zones.
Duetto is the entry level dispenser for pouring wine by the glass. Designed to accommodate four bottles, it combines elegant and refined design with the performance of latest generation technology. Much more than a refrigerated display case, in fact, the small dimensions of this wine dispenser, only 56.8 X 61.2 X 36.8, do not sacrifice anything to performance. Two distinct and completely independent climatic zones and up to three programmable doses for each tap.
Perfect for small venues and domestic use.
A model designed for use on the counter or behind the counter, in the case of commercial establishments, but also for private use, ideal for connoisseurs. Like all the Wineemotion models, ease of use and a design with attention to the smallest detail, contribute to making Duetto an exclusive solution.
The use of nitrogen or inert gas protects the wine from oxidation and keeps it longer
Designed to preserve, refrigerate and serve wines directly from the bottle to the glass, our wine dispensers guarantee the best quality of the wine product. The introduction of inert gases into the bottle, Nitrogen or Argon, allow the air to escape and thus prevent oxidation of the wine. For about four weeks the taste and aromas remain unchanged and each glass is served in the ideal condition to enhance the quality of the product. Nitrogen and Argon are inert, colorless and tasteless food grade gases.