Grandi e numerosi i successi inanellati da Wineemotion durante l'ultima edizione di Vinitaly che si è da poco conclusa a Veronafiere.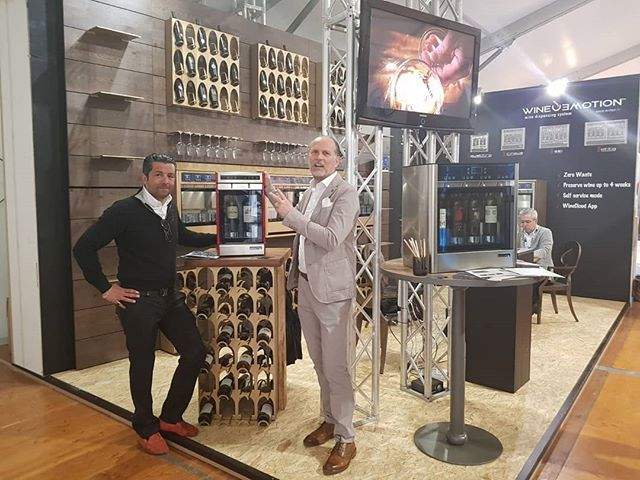 Il pubblico ha riconfermato l'interesse verso l'utilizzo del dispenser che, soprattutto in un contesto espositivo così vasto, ha permesso di effettuare molteplici degustazioni grazie alla possibilità non soltanto di mescere il vino a bicchiere ma di sceglierne le dosi.
Parlando di utilizzo del dispenser, particolare attenzione è stata rivolta all'ultima trovata tecnologica di Wineemotion: la WineCloud App. Si tratta di un'applicazione per smartphone e tablet creata da Wineemotion per attivare il dispenser, e con la quale, in modo semplice e immediato, si può scegliere il proprio vino, degustarlo e, al termine, esprimere la propria valutazione, creando così una sorta di "archivio" consultabile anche da altri utenti.
A non passare inosservato è stato l'allestimento dello stand Wineemotion, arricchito quest'anno dalla nuova partnership intrapresa con Elite To Be che si è tradotta nella realizzazione, fra l'altro, di Convivium. Le parole d'ordine sono design e tecnologia. Convivium è infatti una rivisitazione del classico mobile bar del passato che serviva per conservare vini e liquori pregiati; una rivoluzione radicale al classico frigo bar da camera, un nuovo concetto per la degustazione del vino, un modo per arricchire di prestigio il corner di un ristorante, di un hotel, di un winebar, di un club.
La novità assoluta di Vinitaly 2018 è stata l'installazione dei dispenser Wineemotion all'interno del padiglione Campania. Dispenser che sono stati utilizzati anche da un visitatore d'eccezione: il Presidente della Regione Campania, Vincenzo De Luca il quale, dopo aver visionato lo stand, si è recato davanti a un dispenser e ha voluto capirne il funzionamento. Ha quindi scelto il suo vino preferito, brindando insieme a visitatori ed espositori.
Si è poi rinsaldata la collaborazione con DoctorWine, nel cui corner "Vinitaly Tasting", dedicato agli operatori di settore, grazie ai dispensers Wineemotion, sono state degustate ben 90 etichette della selezione.
La presenza dei dispensers Wineemotion all'interno di Wine2digital, lo spazio permanente di Veronafiere dedicato all'incontro e alla formazione nell'ambito di Vinitaly International, comprendente anche un'accademia per la preparazione di nuovi sommelier, è stata riconfermata per il terzo anno consecutivo. Quest'anno il tema dell'incubatore di nuove imprese legate al vino, sono state le degustazioni fatte ad hoc per valutare l'opportunità di effettuare esportazioni mirate nei vari Paesi del mondo.
Infine, ad evidenziare che Wineemotion è una grande famiglia, c'è stata la visita allo stand dei distributori di Argentina, Usa e Benelux. Sono loro, insieme a tutta la squadra Wineemotion, che ogni giorno offrono a ristoranti, hotel, club e winebar, ubicati nelle più belle città del mondo, un approccio nuovo al vino, sintetizzabile in: zero sprechi, maggiore scelta e miglior abbinamento col cibo.